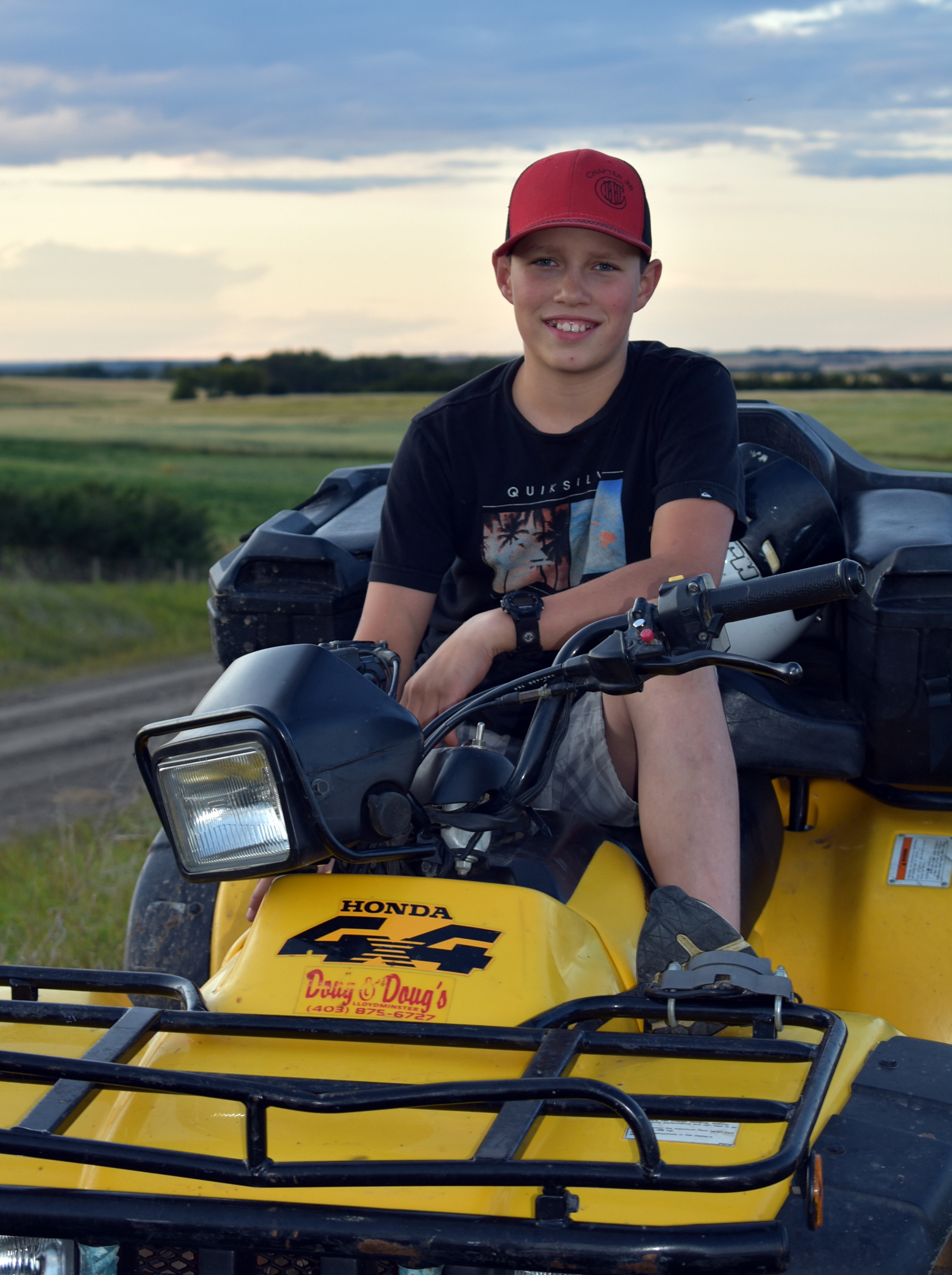 Haiden David Livingston
Haiden David Livingston was born January 17, 2008 to parents Barry and Michelle at Provost, Alberta. He was the second of four children. Haiden spent his first eight years residing in the town of Provost. He spent many hours travelling the sidewalk around his home on a peddle tractor with his fellow farmer and little brother Jaison. In 2016, Haiden and his family moved out of town to a little farm where Haiden had opportunity to test his farming skills. It was here that his love for farm equipment grew and he discovered his passion for Farmall tractors. It started with a book in 2017 and lead to the purchase of a Farmall Super A tractor in the summer of 2019.
Haiden attended the Provost Public School from Kindergarten to grade 6. He was an academic student with a hunger to learn and read. It was often said that he devoured books. Haiden's school friendships had no boundaries and he valued his school community.
Early in his life, it was discovered Haiden had a hunger to learn, solve puzzles and enjoyed building using everything from Lego to lumber. He had a keen interest in mechanics which lead to many hours helping fix machinery at the farm alongside his dad and grandpa. Haiden was an essential part of the farm crew because of his ability to learn fast and he desired to finish the job. When called upon, if the job required a tractor, Haiden was ready and willing. His favourite time of year was fall, especially when he was able to ride along and participate in the neighbour's harvest.
Other interests of Haiden's included fishing, hunting, and snowmobiling. He had many special memories at the family cabin at Dore Lake, Saskatchewan. After the cabin was sold, Haiden enjoyed returning to Dore Lake to put a line in the water. In the fall of 2013, Haiden's dad took up hunting. Haiden and Jaison enjoyed fetching birds and sitting in the blind with hot chocolate on cool fall mornings. Winter was an exciting time for Haiden, as he and Jaison spent many afternoons snowmobiling around the neighbourhood.
Haiden had a special relationship with his Heavenly Father. His hearts desire was to understand the story of Jesus. Haiden enjoyed spending time with God's servants when they visited his family's home. The special days of convention were some of his favourite summer memories. His heart was soft and he loved to pray.
On November 8, Haiden was involved in an accident on the family farm. He was airlifted to the Stollery Children's Hospital where he succumbed to his injury on November 10. Haiden passed away peacefully, comfortable and surrounded by a room full of love, hope and gratitude.
Haiden will be forever loved and remembered by his parents, Barry and Michelle; siblings, Maigan, Jaison and Kaitlyn; grandparents, Bernie and Maivis Livingston and Bruce and Kathy Button; great grandparents, Len and Gwen Button and Ethel Klama; Aunts and Uncles, Leah and Byron Holt, Laureisa and Henrik Jensen, Sandra and Jonathon Dean, Deanna Novakoski and Jason Elder; cousins, Brock, Kajsa, Jyles, Tobias, Nicklas, Oliver, Ida, Blake, Mason, Ella, Ethan and Raven; as well as numerous great aunts and uncles and other relatives and friends.
Haiden was deceased by his great grandparents, David and Jean Livingston, Elmer and Irma Larson and Kasimir Klama.